So I promised that I would not talk sports on this blog anymore, but I have to make an exception now. Stay with me and you'll understand.
For the next couple of weeks (until April 4th) the whole country will be focused not on the war in Iraq, not on Social Security, not on whether to drill for oil in the Arctic Game Preserve, but on 64 teams playing a game.
I like to call it the Cult of Bracketology.
All around the country there will be people, normally reasonable people, level-headed, responsible people living and dying by how their college basketball team fared.

Did UNC win over Oakland, will Duke play Kansas in the regional final, does Farleigh Dickinson stand a snowball's chance in hell against Illinois, and where exactly is Creighton (and is it CRAY-ton or CRY-ton)?

And all for something that we all crave and appreciate -- loyalty. Loyalty to your school or your father's school or your mother's school or granddaddy's alma mater.

I can understand some of that because from my bio at the top of this blog you see I was born in Chapel Hill, North Carolina. They had a saying when I was growing up: 'Basketball is a religion and Dean Smith is God.' Dean of course was the UNC coach for 35 years. Now Roy Williams is the coach and the Tarheels are in the tournament as a top seed.

But both Mom and Dad went to both Carolina and Duke! So what is a young man to do? My dad and I used to go to Kenan Stadium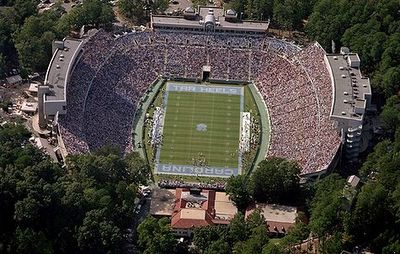 in Chapel Hill for football games. It was like going to the Roman Amphitheatre or some sacred temple.

The sky would be a brilliant blue, as would the uniforms of the Carolina team; the grass was perfect, and green and outlined in white, and the leaves in October would be resplendent with fall colors. The smell of fresh cut grass was in the air, as was the smell of tobacco smoke (this was North Carolina after all). We used to get hot dogs and Cokes and go to the game. Sometimes we would stop by the old Porthole restaurant where my dad worked when he was in college at Chapel Hill. Or we would go to the Ramshead Rathskellar on Amber Alley. But it was me and my dad -- and that was all that was important to me.

But we also went to Wallace Wade Stadium at Duke and watched Kip Keino run in the Martin Luther King Games. We also watched Duke football games, and picked splinters out of our backsides from the old wooden benches they had there.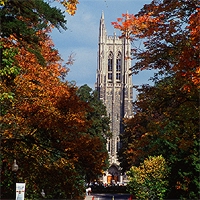 And my parents would have parties for the ACC tournament, back in the days when Phil Ford and Walter Davis played for UNC. Duke sucked back then (until Jim Spanarkel, Gene Banks, Mike Gminski, and the rest of Bill Foster's crew came within a Kentucky game of the national title).

So we lived and died with our teams. But the most important thing was the time we shared. Time with my dad was at a premium -- and not all of it was good, particularly as he and my mom started to split. When my dad died 10 years ago at age 65, I knew that the memories we made were all I would have of him. There wouldn't be any new ones.

But whenever I hear the Carolina fight song, or smell a cigarette outdoors, or glimpse brightly colored trees against a brilliant blue October sky, the memories that come back are mostly good ones. So for the next few weeks, enjoy being part of the cult of bracketology. Take some time to go nuts over your team. It might make a lasting impression.